How does a Nyenrode Startup Weekend work?
Whether you're looking to build a startup or interested in developing as an entrepreneur yourself, organizing a startup weekend is a great way to get involved. Let me know if you need help with that?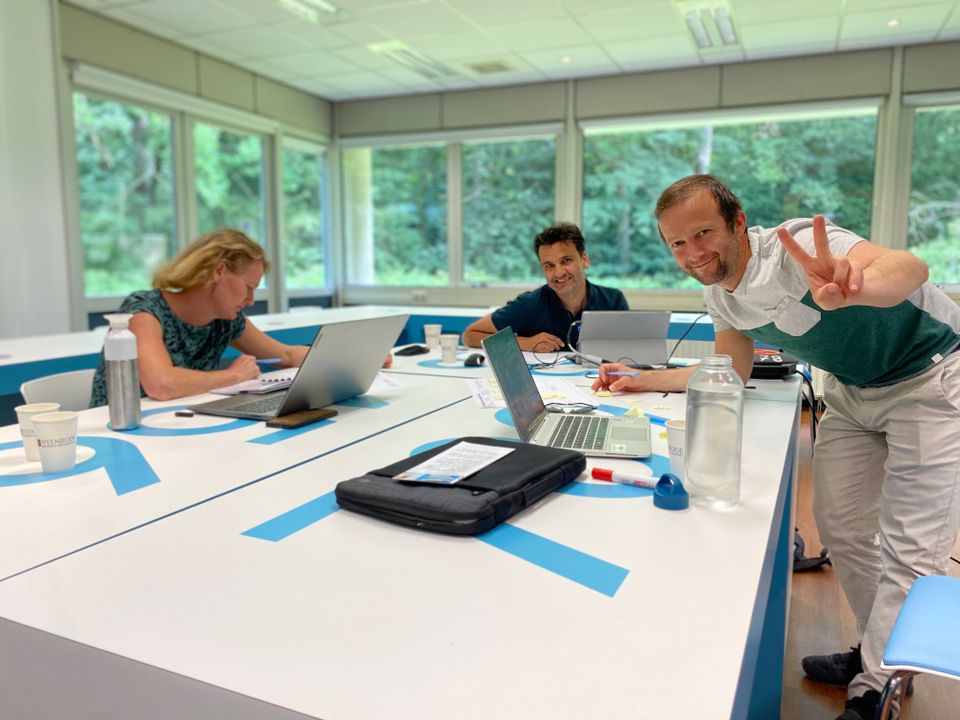 This weekend I mentored a startup weekend for Nyenrode Business Universiteit. We organized the weekend for financial economics students who want to experience whether entrepreneurship is something for them. do you want to know how such a weekend works? Then I wrote this post for you and it's fun to read.
This weekend's mission is to teach and promote entrepreneurship, build, strengthen, and empower the community through experiential learning. The eleven participants build diverse teams, work on their ideas and pitches, and collaborate with like-minded, innovative, driven, and passionate individuals.
🕐 Small group, one day
Out of a batch of sixty students, eleven students voluntarily chose to participate this weekend. Unfortunately, by the weekend, we mean a day in this case. You usually start on a Friday evening and last until Sunday evening. However, given the pandemic, we were only able to schedule one day. But what a spectacular day it turned out to be. Will you read with me?
🪢 Building a community
At eight o'clock in the morning, all the students and mentors gathered in the university canteen. A shared breakfast enables everyone to socialize with each other. Although the students already know each other well, it is still essential for group formation to eat and talk with each other before starting. The organizers are Hans ten Rouwelaar and Ger Zwartendijk. The mentors are Ard Jol and me.
The following schedule gives a sense of what the day will look like:
Kick-off at 9 AM - Instructions and Half Baked
Before 10 AM - Meet, pitch, and form teams;
Before 4 PM - Build a minimum viable product and business model and receive mentorship from four mentors;
From 4 PM - Give final pitch presentations, network, and celebrate!
At nine o'clock, we start in a room with the guidance of the day by Ger Zwartendijk, followed by tips and tricks (and a list of resources) by Sebastiaan Hooft:
You are here to learn if entrepreneurship is for you;
You are allowed to make mistakes in a protected environment;
You build a network of like-minded people.
🍞 Half Baked
To warm up, we play a Half-Baked game within ten minutes. The participants form groups, choose two random words, and develop a startup with an associated logo within five minutes. You then pitch it to the group within thirty seconds. The pitches are hilarious, and the energy level is already very high at half-past nine: we have started!
💡 The three ideas we are going to work with
Before ten o'clock, seven of the eleven participants pitched an idea. Such a pitch lasts thirty seconds, during which you tell what problem you want to solve and how you plan to do it. For example, a participant pitched two ideas. After a round of voting, three were chosen from the eight ideas. Then, the teams each took to their own room.
🏠 Rent a house together
Problem: The housing shortage in the Netherlands is high. If I want to rent a house with other people. How do I find those people?
Solution: Launching a platform that brings supply and demand together.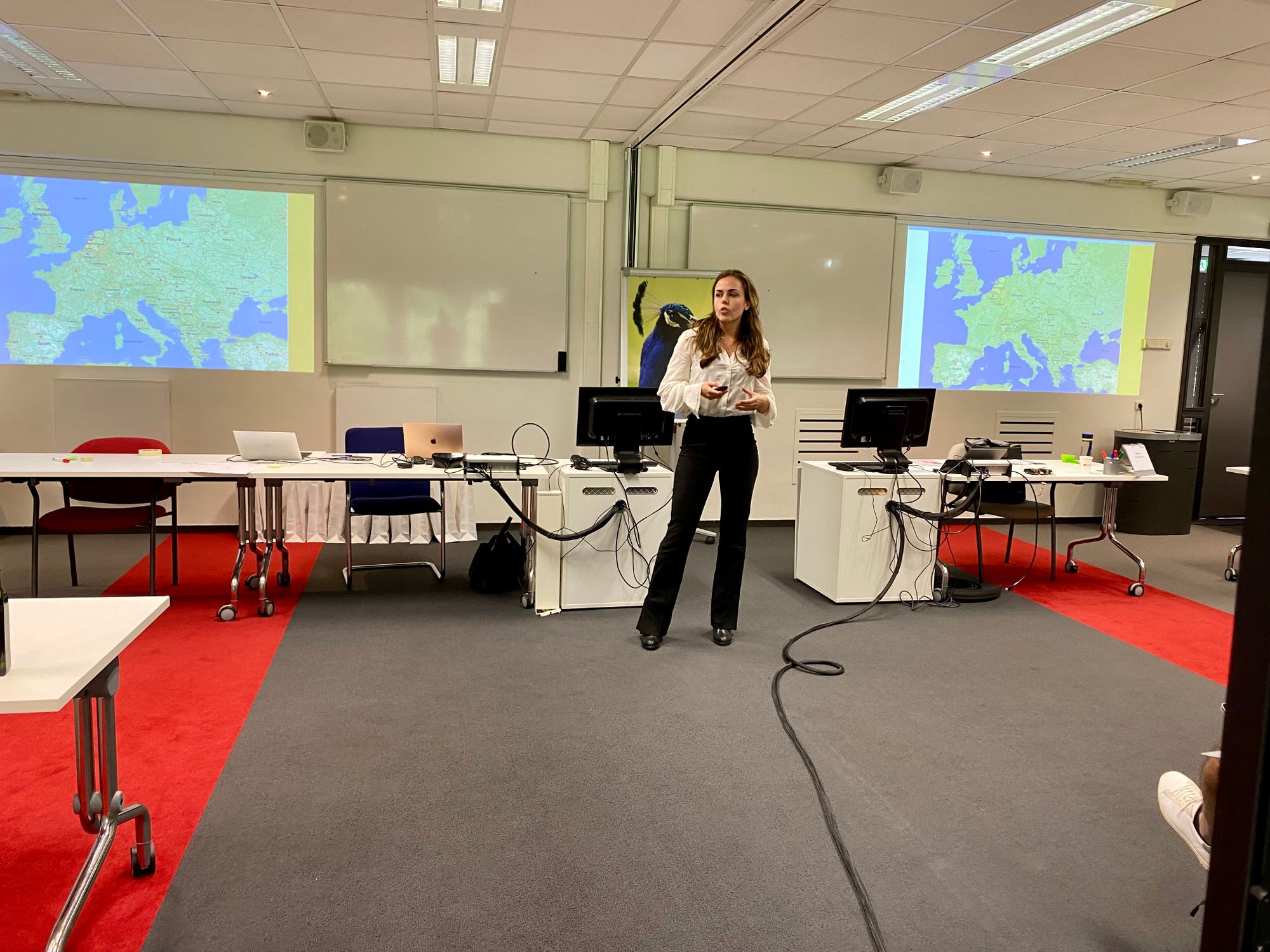 🎟️ Predict event visitors
Problem: Theater and stage programming is now done by feel. As a result, the occupation is only 70%, and the artist ultimately earns too little money.
Solution: Build an application that can predict, based on big data, which artists could perform where.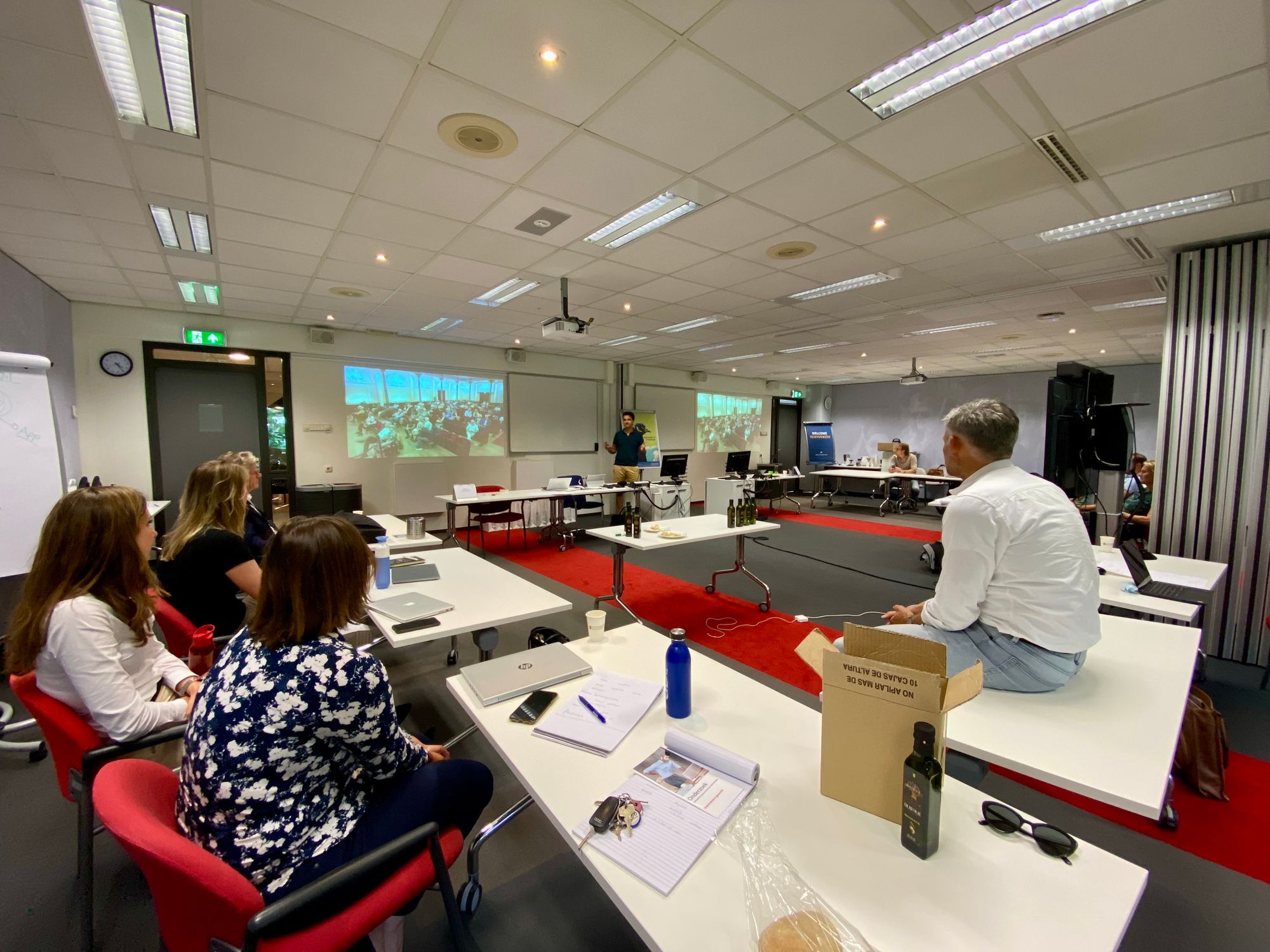 🥑 Avocado Oil
Problem: How do you get high-quality avocado oil from Spain sold on the Dutch market?
Solution: Marketing an avocado oil brand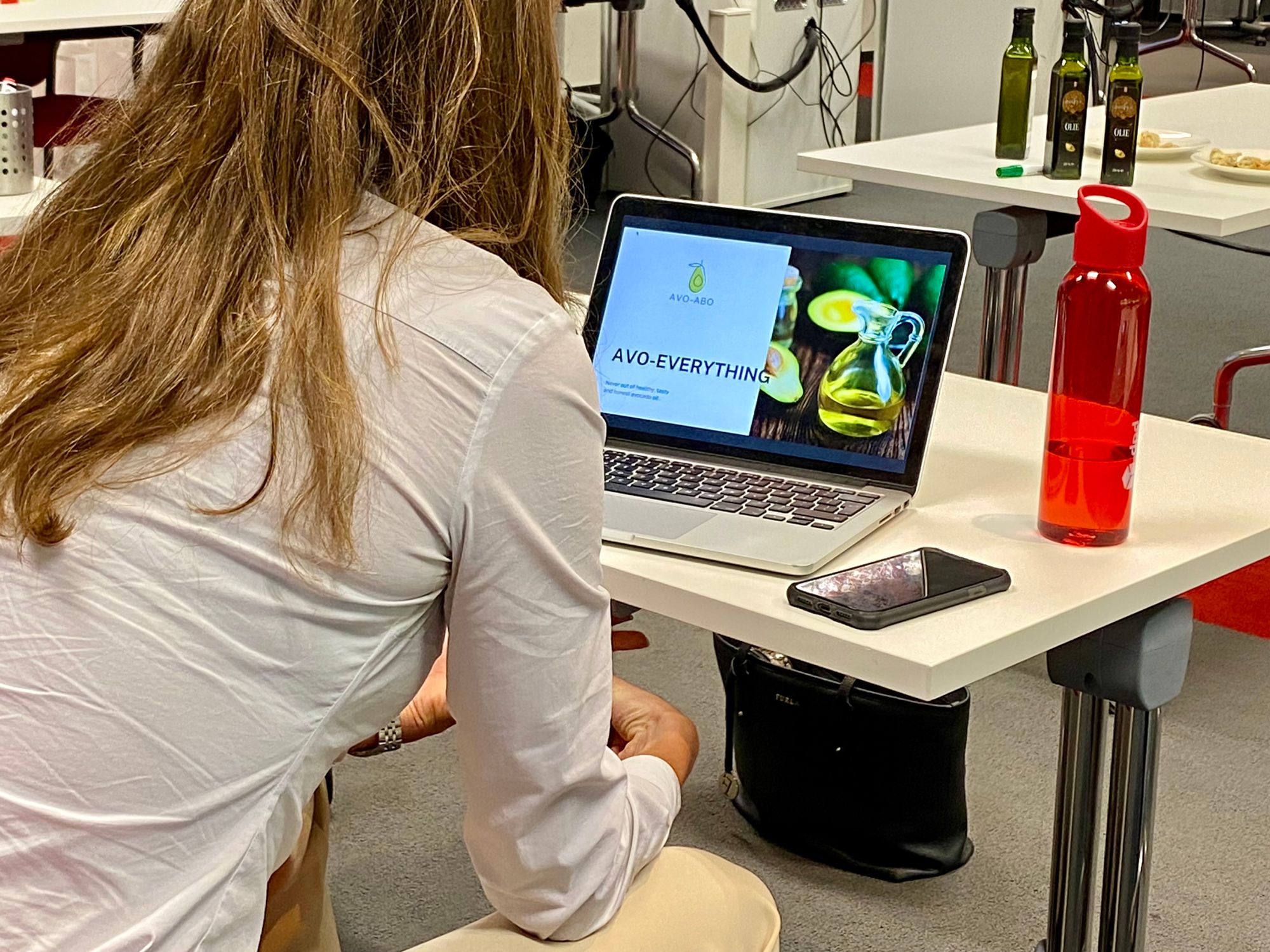 During the weekend, the participants are given maximum time to work on their idea. The mentors are available and occasionally ask if there are any questions, but the real work is done by the participants. The participants soon discover that validating the assumptions and finding a valid business model is not so easy.
🤔 Does the problem exist?
One of the teams got stuck pretty quickly. Is there an existing problem? The oil from the Avocado Oil team turned out to be too expensive and too indistinguishable from other oils on the market. Could the solution lie in a different way of approaching the value proposition -a solution that meets the needs of a young target group? Investigation revealed that this was indeed a huge opportunity: the team pivoted into Avo-Abo, your subscription to edible oil.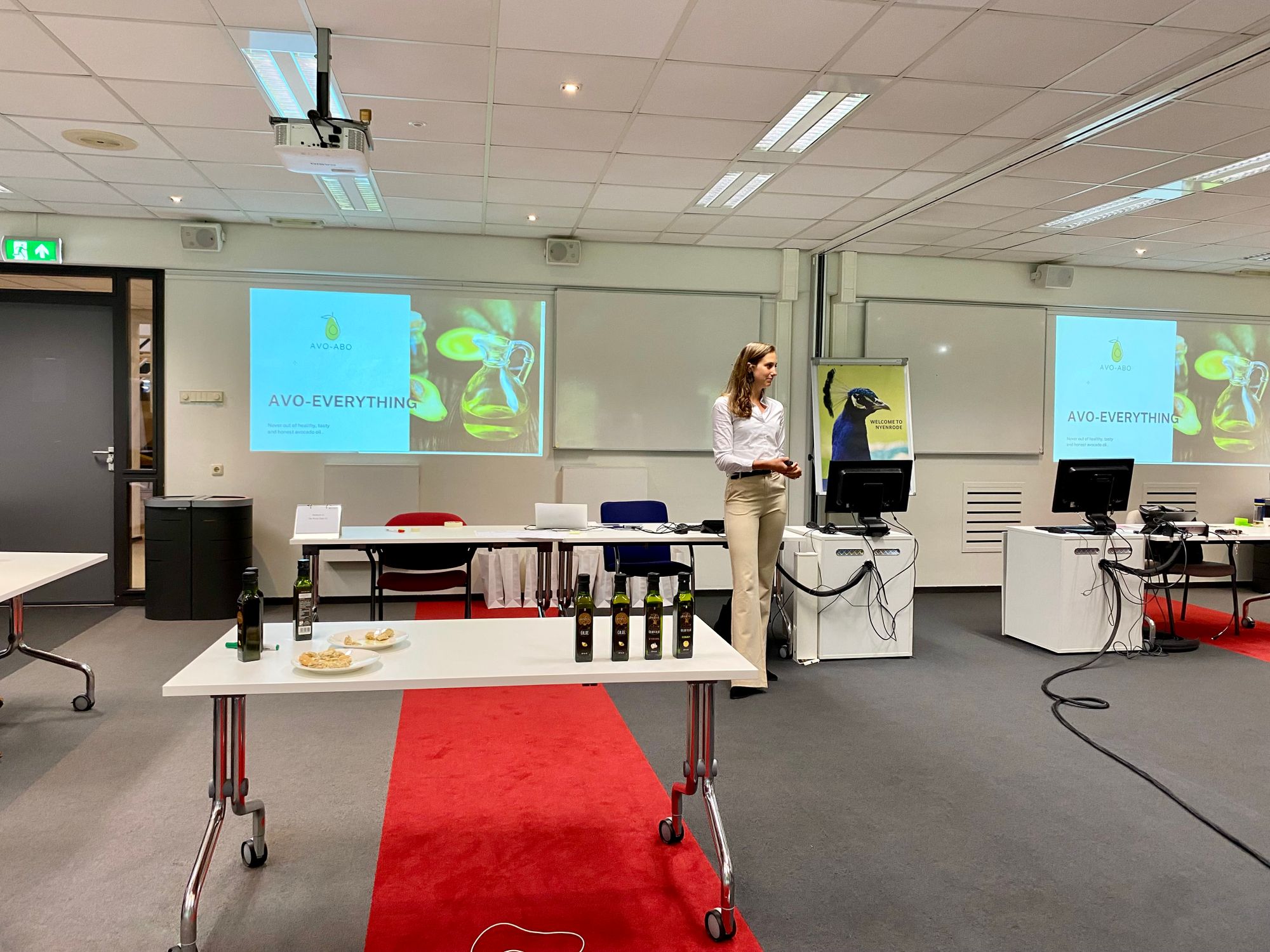 📊 What is the value of the startup?
The other two teams also ran into the value of their startup reasonably quickly. If you want to build a technology platform, you need resources: people and money. How do you calculate how much you need, and how do you present it to investors? That affects your entire process.
At the end of the day, there were three great pitches. All three startups could give their professional pitch to the jury after having practiced at four o'clock. The result? Three of the three startups will continue with their idea on Monday: a 100% score for this weekend.
🔧 Continue building
So the weekend is not over yet. On this website, the students have had valuable resources for building their startup. In addition, they receive three e-mails in which they receive additional information and an invitation to keep in touch with their mentors.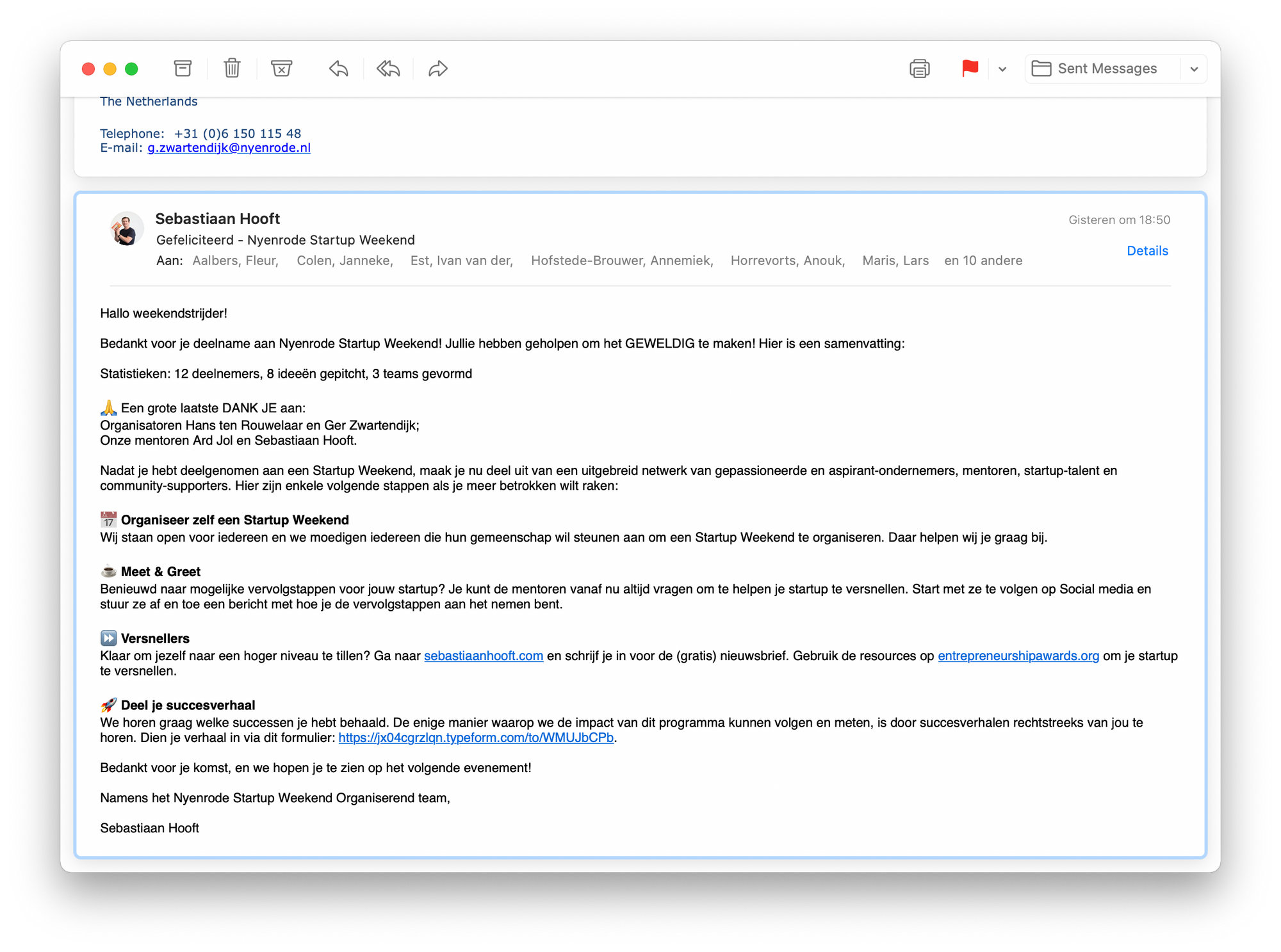 Whether you're looking to build a startup or interested in developing as an entrepreneur yourself, organizing a startup weekend is a great way to get involved. Let me know if you need help with that?