UPW21: Day Four Vitality: The Power of Your New Identity
Today we get five successive guest speakers during this day who all attribute their success to Tony Robbins. Sprinkled with energetic dance moments with eighteen thousand participants, which I can also see via Zoom. The day is again full of high fives and fist pumps.
On the fourth and final day of Unleash the Power Within, I wake up an hour later than usual. The day before, I went to bed very late again. My body feels stiff from all the jumping and dancing, but also lovely. I can feel the transformation from day three, not only physically but also mentally. "Something positive has happened to me," I think as I brew a good cup of coffee and start writing my blog.
Day four is a day when the other coaches have taken over from Tony Robbins. So in total, during this event, you get two days of Tony Robbins and two days of additional speakers. At the start of this day, I hope there will be fewer sales and more information about the day's topic: vitality. So, in good spirits, I open the portal at 12.45 PM to click "ENTER THE MAIN STAGE" and get outside with my laptop in my sports outfit - I feel like I have become an experienced UPW goer. The opening is by mega enthusiastic host Karissa "KK" Kouchis. She is warming up for Egoscue coach Brian Bradley, a man I've become a fan of. Yes, we are going to work with our bodies again. More on that later. After Brian come the passionate dancers of KINGRGY. This time a spiritual dance with more reflection. Using fire and ice, the dancer, with her motivating voice, takes us on a journey through our bodies: I can see myself doing this every day in front of my television - tomorrow I'll see what that membership costs per month - I promise myself.
Karissa "KK" Kouchis is ahead of me; she explains to us an offer from both facilitators. "Energy comes from physiology for your energetic state," she says. "Check out the speakers and facilitators in the portal":
KINGRGY gives the first month as a gift or 30% discount in their store;
Egoscue gifts ten videos with Brian Bradly, and ten people even win a 1-on-1 session with the coach.
It's Okay to Be Selfish
Coach Brian Bradley wants us to understand that it's okay to be selfish when it comes to good health. Also, he urges you to stop using your arms for the work your legs should do. Power comes from the waist down. Both structural and postural. Before we start our three exercises, he says: "Stretching is garbage."
All Resources for After the Event
Coach Scott Harris takes over the podium. Today, according to him, it's all about after the event: "We're going to help you for after the event," is the direct promise. Scott gives us the time to go to the portal where all the buttons appeared to speak to the sales team. According to Scott, this is extremely important because we have to understand all the differences between the various follow-up processes. His frank advice is to take a two-year trajectory to work on the habit and the community around you.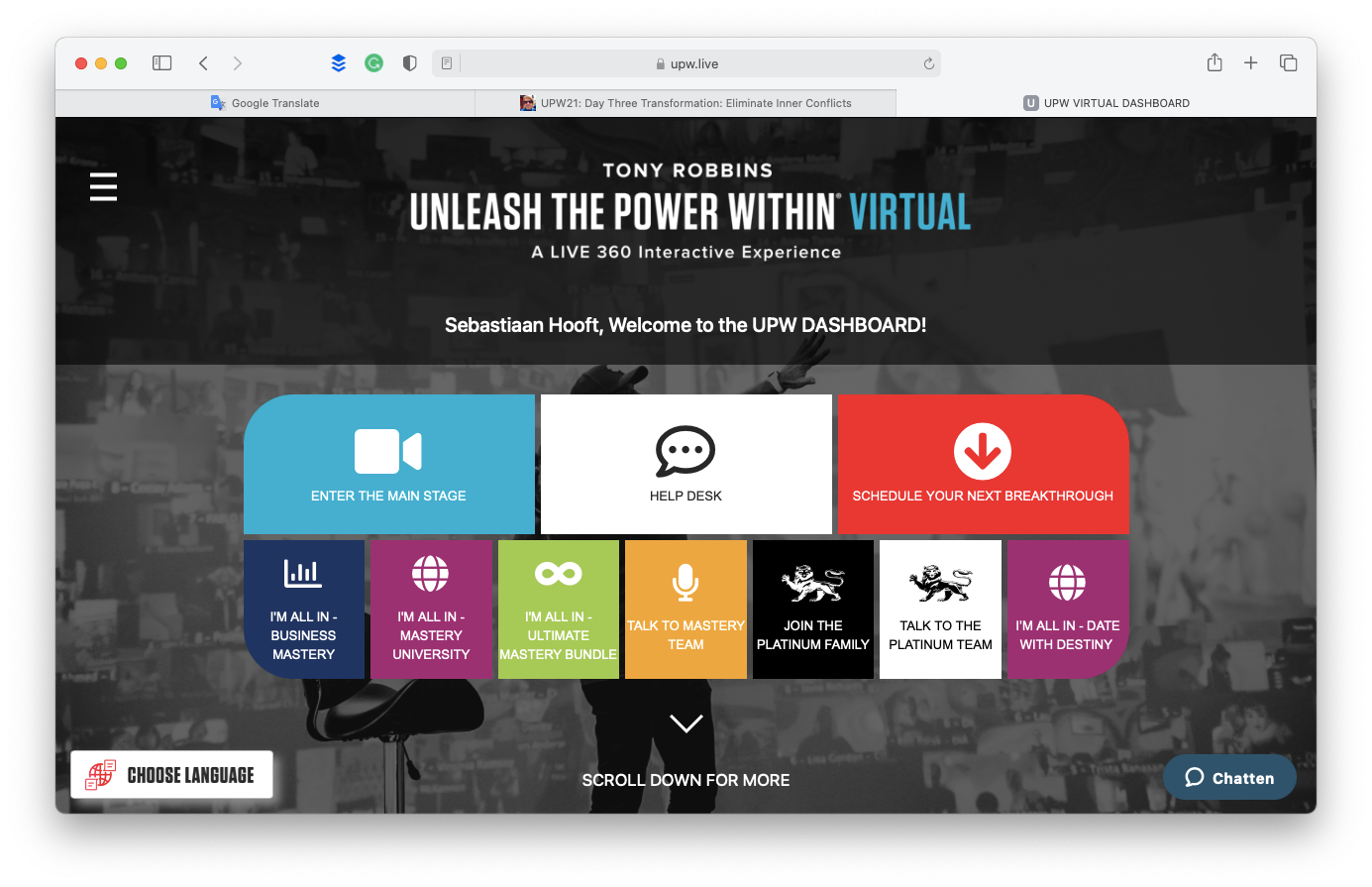 Today we get five successive guest speakers during this day who all attribute their success to Tony Robbins. Sprinkled with energetic dance moments with eighteen thousand participants, which I can also see via Zoom. The day is again full of high fives and fist pumps.
The first guest speaker: Jamie Kern Lima
"How do you deal with the season of a setback" opens Jamie Kern Lima. "I'm going to tell you the stories behind the stories" to thunderous applause from the applause machine, she tells her story of how as a waitress, she saved her tip money to go to a Tony Robbins event. It is the story of an inexperienced entrepreneur who started a make-up brand and became wealthy through trial and error, from poor to rich. As she speaks, I bookmark her book in my Goodreads and Storytel. I would like to read it anyway because, in the Zoom chat, I read that people think it is a hilarious book - that seems like fun for a change: a funny, entrepreneurial story. Although Jamie is not the most motivational speaker, she still strikes a chord with me. She's standing there!
The second guest speaker: Dean Graziosi
They couldn't have invited a better stereotype of a fast-paced entrepreneur: Dean Graziosi speaks quickly and smoothly about money and success. The entrepreneur tells how Tony Robbins changed his life. Dean became so successful he went to all the events and even bought tickets for ten of his friends. He is present at every Unleash the Power Within. He also explains to us that standing still is going backward: "When the world shifts, winter is coming," in fact, now in a time of crisis is the time to be successful as an entrepreneur. Dean also has published a book about how to become a millionaire. I also bookmark his book title in my Goodreads and Storytel. I intend to read all the books of all speakers and take a chance to bookmark them all during Dean's talk. That's at least a hundred hours of reading pleasure, not to mention I still have to read the six books by Tony Robbins himself.
Always be pitching
After the two speakers, Coach Scott Harris takes over again with a sales pitch with logic in it like "Make your reason not to do it your reason to do it," I hope this day isn't all about buying tickets. Fortunately, that will change, but we apparently have to go through this in the morning session. Also I noticed that I'm receiving e-mails about the follow up program.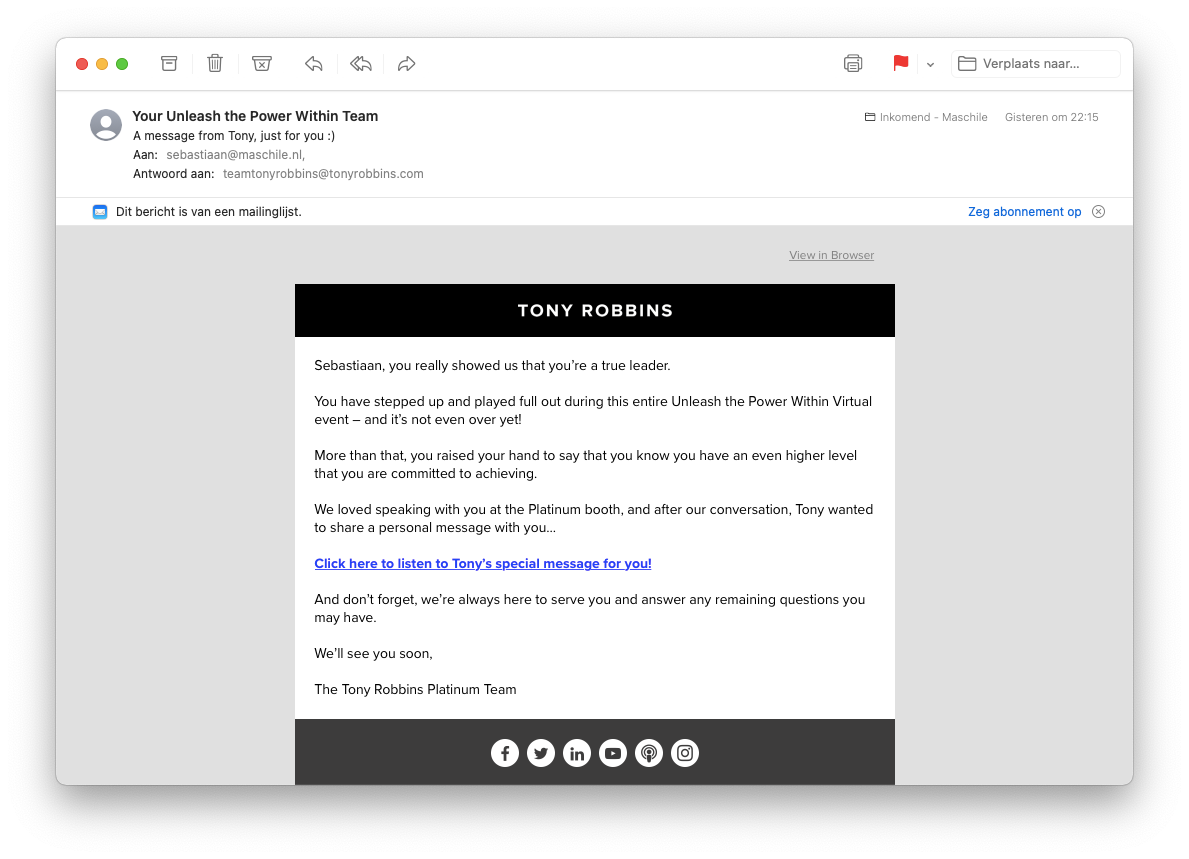 80% psychology
After the usual dancing and jumping, which I thoroughly enjoy, the stage is again for Joseph McClendon III - who makes quite a show of it. He plays with the audience for minutes. And then show two videos. Stanford University has researched the Tony Robbins events, and it measured that people come out more optimistic than they went in. Unfortunately, I can't find the video online. The point is that positivity is 80% about psychology and 20% about mechanics. In between the videos, he tells the story about his sick mother. The doctors wanted to say to her that she would die of an illness, but JM3 did everything possible to make this negative message positive. Because that positivity helps to live longer, he claims. His mother lived longer than the doctors expected. But the battle with the doctors around her was enormous, according to JM3.
The second video is of a Tony Robbins performance. It's about the 20 Core Questions for a Vital Life - "Luckily," I think, "we've come to the topic of the day." An excellent quote in the video, which I wrote down, is: "If your body wants to get rid of a toxic shit, then why would you put it back," as he makes an eating gesture towards his mouth - so! That comment stuck with me right now.
Third guest speaker: Nick Santonastasso
"Confidence is a skill you acquire over time; it's about self-integrity," according to coach Nick Santonastasso's mantra. After a video in which we see Nick overcome all kinds of obstacles in his life -he has a rare disease- we see him transform into a Tony Robbins life coach and facilitator. He also has published a book about success. Calling in from his house on Zoom, Nick tells how to ask yourself three questions:
What do you want?
What are your limiting beliefs?
Who around you limits you?
The people around you set your standard. He doesn't really want to say it like that, but he does it anyway: "Only gather successful people around you and make that your standard" A tip that resonates with me is that you set non-negotiables for yourself. For Dean, there are two: drink enough water every day and exercise for 45 minutes.
"I can do this every weekend."
We take a short break and open again energetically with KINGRGY, dancing with eighteen thousand people, I think. It's almost evening here, and I'm comfortable in it, along with the beautiful dancers and crazy contestants on screen. I'm having a good time. I think I can do this every weekend.
Fourth guest speaker: Siri Lindley
The story of athlete Siri Lindley is one of fall and save. "I'm not a statistic," she opens. She had overcome hurdles in her life, such as becoming number one in her sport when she was not one of the best until starting a foundation for horses. She also got a disease. But, with the help of Tony Robbins, she overcame all this. Not only is she a celebrated author, coach and facilitator now, but she still attends all Tony Robbins' programs; as I understand it, she attends all programs literally. "She must have a platinum membership," I noticed myself thinking. This makes me realize that I'm already starting to find the $85 thousand a year membership regular: all those pitches have pushed my standard. "It makes the five-thousand dollars for the shorter program seem like a steal."
A fast-paced program of health advice
After that, the hosts shift rapidly. With topics such as Create Lasting Change and Oxygen & Lymphatic System. There is a video of breathing coach Wim Hof, but I want to share one of the tips in the series of tips because I have also become too easy to do. If you drink water, do so from a glass bottle. Plastic is a risk. The water can bond if the plastic doesn't meet the highest standard. I think all the plastic in my kitchen and I'm going to change it anyway. I also note the tip to buy Udo's oil. I'm going to do some research on that because I now use coconut butter for cooking.
Fifth and last guest speaker: The Medical Medium
I had already heard that there is quite a bit of controversy surrounding the bestselling author and celebrity coach Anthony William. He has published a series of books, of which the one about celery juice is the most famous. However, he was excellent this night sharing splendid tips: The Medica Medium called in live from his own kitchen. To make a long story short? Drink a glass of water every day with a squeezed lemon and lime and a glass of celery juice. Do not mix this together because then you will change the effectiveness of the potions.
After these wise words, it is time to keep my agreement with me. As the event kicks back into sales mode, I go to bed. Satisfied and tired. Transformed? Yes, I have definitely unleashed new powers within me—more on that in a later post. I'd love to take the time with you to discuss that. For the paid members of my newsletter (which for now is everyone) I'll also make a profile on each speaker with links to valuable resources provided by them and Tony Robbins.
Thanks for reading and following me during the event, and I'd love to hear any questions you have about my experience with Unleash the Power Within!